SAY SOMETHING TRUE.

Intersection Studio surfaces, designs, and produces authentic stories for brands that make a difference. We create visceral communications that enable organizations to move, and move people.

We are a brand + story development consultancy operating at the intersection of strategy, identity, design, content creation and marketing.

Authenticity is a potent catalyst. When you say something true, you can achieve combustion, spark change, and sustain growth.


BRANDS ON THE MOVE.

Our identity, positioning, and campaign-development projects launch new organizations and re-energize mature ones. We partner with people who choose to make the world a better place:

ArtCenter College of Design
Autry National Center
The Broad Stage
CHOC Children's Hospital
Coalition for Compassionate Care of California
Geffen Playhouse
Jewish Community Foundation of Los Angeles
Los Angeles Philharmonic
Oakwood School
ONE Archives Foundation
Pacific Symphony
Public Radio International (PRI)
Segerstrom Center for the Arts
Skirball Cultural Center
Sundance Institute
UCLA Semel Institute for Neuroscience and Human Behavior
Unites States Artists
University of North Carolina School of the Arts
USC Marshall School of Business
USC Shoah Foundation Institute
THE INTERSECTION IS "WE."
AS IN YOU + US.

We begin with mutual desire, a sense of purpose and alignment on the question we are trying to answer together. To be successful, we must agree on what success looks like.

Whether we are launching a new brand, rebranding and positioning an existing one, or creating the content for a campaign, the quality of the stories "we" make will be equal to the quality of our relationship. Great work is the product of great collaboration.

To propel your project forward, Intersection Studio combines its core creative expertise—brand and story development—with the talents of professionals in our network in the areas of: strategy, research, graphic design, systems design, web development, filmmaking, marketing, and more. Casting and directing multi-disciplined teams enables us to tap collective intelligence and accelerate the process of getting to insight and action.

What's in it for you? Intersection Studio will understand your business quickly, see your opportunities and challenges systemically, and build a presence for your brand that motivates engagement and trust.

Brands move on trust. Trust is built on truth. What's your true story?


︎
SELECTED CASE HISTORIES
---
Autry National Center

Services: Brand Inception, Identity Design, Naming and Positioning, Story Development, Custom Publishing


The studio created a new identity for the Autry National Center, an institution that developed from the merger of two Los Angeles institutions—The Autry Museum of Western Heritage, and the Southwest Museum of the American Indian. In the process of creating the new identity, we conceived, designed and published Convergence Magazine, a publication that carried the vision and intellectual agenda of the new institution. In the eight years we published the magazine, the American Museum Publications Association twice honored Convergence with awards for excellence.

"It is very hard to discuss the soul of an organization and that people are terribly afraid of going beyond the practical. And yet, when you say, "Why do you work at a place?" What you usually try to do is articulate what the soul of the place is? Before Intersection Studio came to the Autry, we looked at everybody's logo that we thought were good logos. So in essence, we were picking style over substance. And we literally had to find how to express the substance. The substance of the Autry really was this larger idea of convergence and history over time in the American west. It was the connecting glue of so many efforts that we made."
— John Gray, Director of the Smithsonian National Museum of American History—Retired, formerly President, Autry National Center
---
CHOC Children's Hospital

Services: Brand Strategy and Story Development, Campaign Design, Content Creation and Production

Forty-five years into its life, CHOC Children's found itself at a tipping point—experiencing hyper growth and a shortage of beds and doctors. The strategic transformation of the hospital and its ability to care for two million children that live within the hospital's market footprint was a stake. The CHOC Foundation hired Intersection Studio to create a case substantial enough to raise the consciousness of citizen-leaders in Orange County about children's health issues and in the process attract $125 million in funds. A book, two films, a website and a newspaper later, the campaign closed surpassing its fundraising goal. A new hospital tower was built and is now open to serve the public.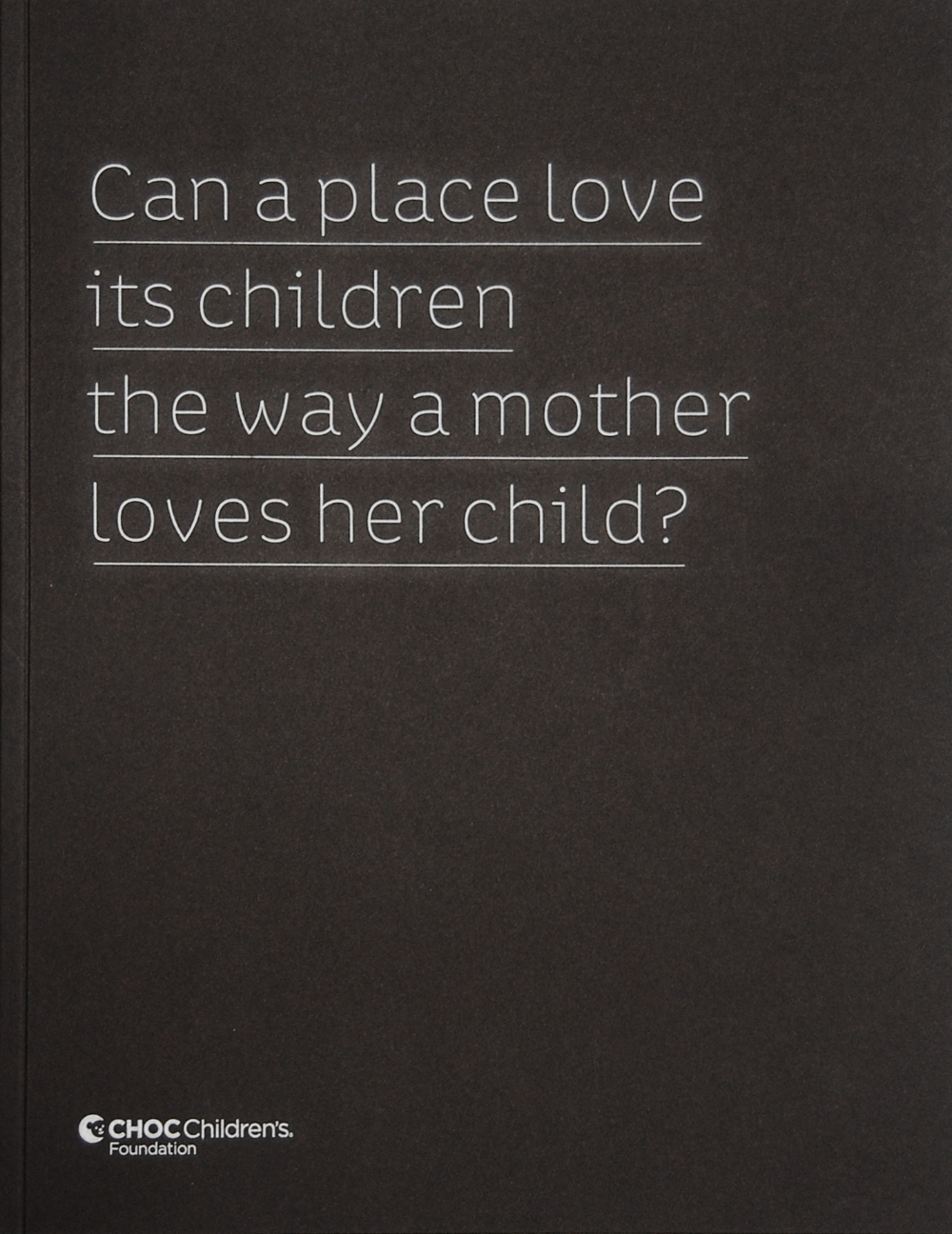 THE CALL
What's it like sitting in the hot seat running a Children's Hospital? In this film, the CEO takes a tough phone call where she must present the case for investing in the vision of CHOC. The Call takes the viewer inside the workings of the hospital and creates empathy for the organization and its reason for being.


---
The Broad Stage
Services: Brand Inception, Identity Design, Story Development, Brand Communications Across All Platforms


While The Broad Stage (at the Santa Monica College Performing Arts Center) was still under construction we began to build the brand from the ground up. Collaborating with the artistic director and her leadership team, the studio helped articulate the strategy and vision of The Broad. With the vision in place as a super structure we designed the visual and verbal identity, launching with a story that established the meaning and myth of the brand. We had the opportunity to flesh out the voice of The Broad across all marketing and fundraising communications for the first two seasons. Today, The Broad Stage has become an integral part of the Los Angeles theater scene while presenting or producing 200 shows a year across all performing arts disciplines.
---
Oakwood School
Services: Brand Transformation and Positioning, Identity Design, Web Design and Brand Communications Across All Platforms

When we started working on Oakwood School, the leadership team was challenged to communicate the meaning of the organization and the deep proprietary value delivered by this legendary Los Angeles private day school. In short, the reality of the school experience was invaluably superior to their existing brand. We promised that success would look like a parent being able to "get" Oakwood more quickly and deeply and without having to go multiple school presentations to do so. We committed to help Oakwood establish a clear position in their customers' minds. That is, parents would know what job they were hiring Oakwood School to do and trust that it would do it with extraordinary results. The process transformed the presence of Oakwood. With a clear brand and new admission materials telling the whole story, applications to the school increased exponentially.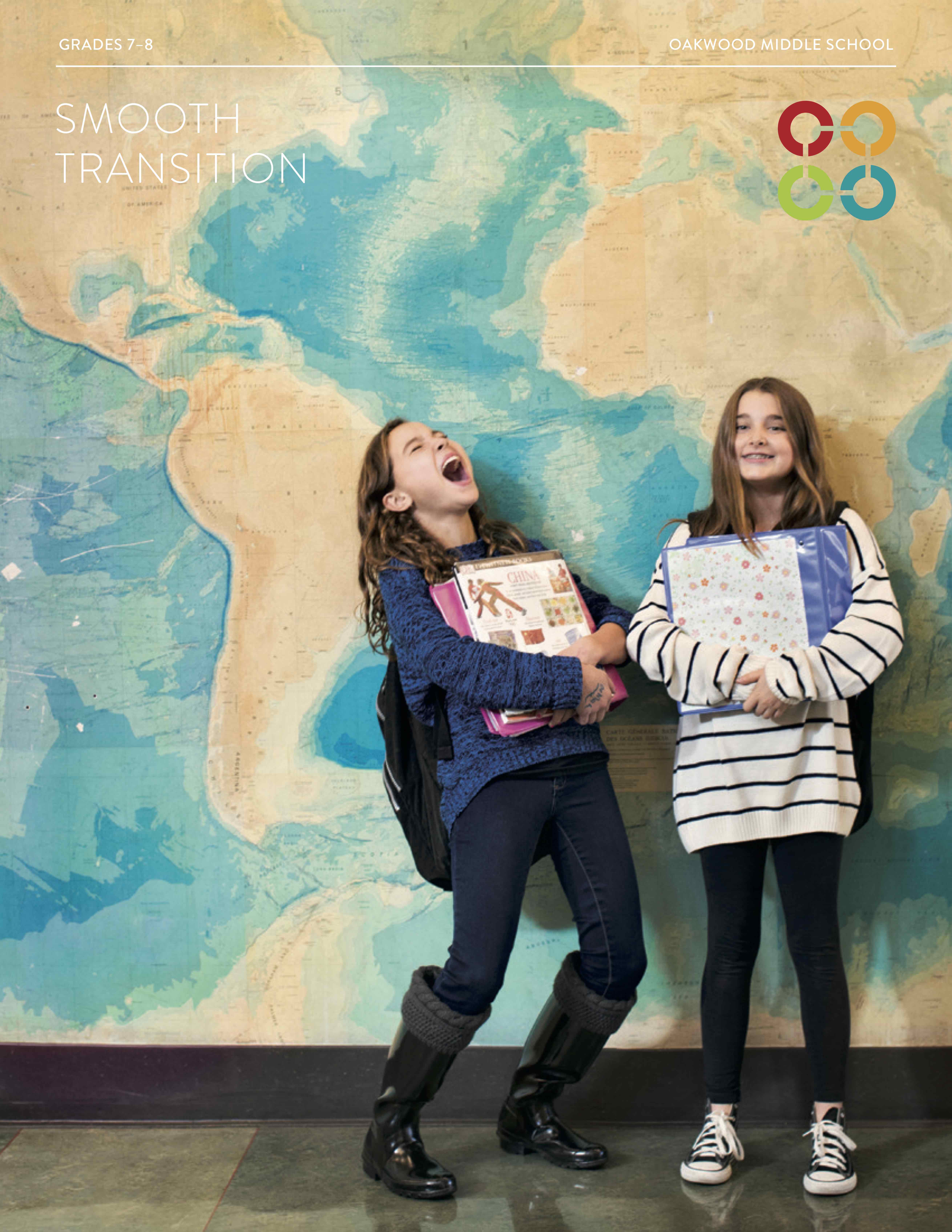 ---
Sundance Institute
Services: Brand Story Development, Design and Production

On the occasion of its 25th anniversary, after an 18-month research and consulting project exploring the dynamics of their brand, its legacy and potential future, Sundance Institute's management team were faced with telling a story they found very difficult to articulate—their own. Intersection Studio unpacked their stacks of consulting documents and developed what came to be the first corporate statement of their identity they had ever produced. The piece was used to communicate to the national and global Sundance community.
---
USC Marshall School of Business
Services: Strategy, Brand Story Development, Content Creation


We worked with the dean's cabinet to facilitate organizational readiness for an ambitious campaign to build a new undergraduate business school facility and increase scholarship funds. The work included collaborating with the leadership team to develop the school's five-year strategic plan. The strategic plan fosters a shared vision for the organization and served as the plot line for the fund raising story. In addition, the studio re-branded Marshall Partners, the school's hyper-effective membership organization.
---
United States Artists (USA)


Services: Brand Inception, Identity Design, Story Development, Web Design and Brand Communications Across All Platforms


When the Ford, Rockefeller, Prudential, and Rasmussen Foundations decided to seed a new national organization to support America's finest living artists, they put $20 million in the bank and their trust in Intersection Studio to build the organization strategy and brand from scratch. Working with the executive director and her team, we created the brand identity, marketing, and strategic communications that took USA from kitchen-table start up to one of the most innovative grant-making organizations in the arts.



---
UCLA Semel Institute for Neuroscience and Human Behavior
Services: Brand Strategy and Story Development, Campaign Identity Design

UCLA is one of the world's preeminent neuroscience research and clinical centers with over 4,000 neuroscientists working in facilities spread across the Westwood campus. The challenge was to reach across a complex science organization and write a simple story advocating for the creation of a hub facility where the university's scientists and doctors could collaborate more closely and practice team science. The Studio researched, wrote and designed the philanthropic case for a building that could become the Nexus for Neuroscience at UCLA.

---
ArtCenter College of Design
Services: Brand Strategy and Story Development, Content Design and Creation

Intersection Studio guided the college through a philanthropic identity and case creation process to anchor the efforts of a $100 million capital campaign. In addition to major case development and publishing work, we designed the brand strategy and identity for FullCircle, a new membership organization created to energize the alumni and the college's community of friends. To further engage the ArtCenter community, we helped reposition its AlumNetwork and created the Gather and Storyboard brands, communication platforms designed to connect ArtCenter alums.

︎


Gasper Patrico - Chief Creative Officer and President

At my core, I'm a journalist—a storyteller. My other titles and roles—strategist, creative director, producer—are filtered through that lens. This perspective drives my passion for shaping and sharing the stories of organizations that choose to make a difference in the world.

The stories we produce at Intersection Studio are based on "the big picture." The narratives are informed by the people in an organization, what they believe, and their vision for the future. Only then do products or services have a relevant context.

This expression of organizational identity or brand enables leadership teams to build energy and momentum. It gives employees clarity, purpose, and agency to serve customers, and attracts customers who are engaged and aligned with your brand's values.

Take a look at any leadership brand and you'll find they have energy and momentum because their purpose is driven by deep empathy and understanding for the needs of their customers and the employees who serve them.

How do you get there?

The Intersection Studio practice employs a broad tool-kit first developed at a prior company I co-founded and lead. Our clients were funded by venture capital firms, and operated by CEOs who were under intense pressure to be first to market. In addition to expedience, real success could only be achieved by designing organizations and brands that said something true and felt human when you touched them. To do this, we had to organize and synchronize multidisciplinary teams. We had to develop a process for mining the collective intelligence of our people.

I took the learnings from this work into Intersection Studio where I am Chief Creative Officer and President. At Intersection Studio, I've seen this approach rapidly bring coherence and energy to startups, legacy businesses and nonprofits alike. I've witnessed the achievement of ambitious goals through declarative and compelling storytelling that unpacks the earnest motivations that live at the soul of great organizations.

Emotion follows motion. It's easier to jump onto a moving train than onto one that's standing still. As business guru Simon Senak has famously evangelized, "People don't buy what you do, they buy why you do it." True that.

Background
BA Journalism, University of Michigan

Screenwriting Studies, UCLA and USC

Executive Education Certificate—The Power of Collaborative Intelligence,
USC Marshall School of Business

Creative Director/Writer in the the advertising world
(Campbell Ewald, Ketchum, McCann +)

Board Member, FullCircle, ArtCenter College of Design
Advisory to the Board, California Desert Coalition

Former Board Member, Mojave Desert Land Trust
---
Ed Barguiarena - Creative Director
The work we do here at Intersection Studio is always grounded in inquiry. Finding the human and visceral truth inside of an organization is what makes each project alive and interesting. My formal training and experience is rooted in the arts. I am a composer, musician, producer, writer, and educator (more about that below). The correlation between my art background and the brand work we do is this: we are always looking for creative and new solutions to the problems we are helping our clients solve. It's all a process of questions, answers, trial and error—and I know how to move that process along.

As Creative Director at Intersection Studio, I function as a kind of artist in residence. I'm comfortable with beginning a journey that might not have a clear destination. My work is about creating and designing a destination—a future—that enables a project to impact the world. I like to be provocative with the truth—the truth inside of an organization, a brand. And then share that perspective through a brand voice using language, photographs, film, audio, and design.

This type of storytelling is expressed through answering some simple questions about the beliefs and values of an organization. Why are you doing this work? What is your vision for the future, and what might that future look like? What is the meaning and the purpose around the work you do, and the services you offer?

The answers to these questions allow us to communicate with authenticity and care—the keys to finding your true audience.

Artistic Projects

Documentary Film Scores
Composer
In Our Son's Name (PBS, 2016)
Raising Ryland (CNN Films, 2015)
Cesar's Last Fast (Sundance Film Festival, 2014)

Interactive Concerts, and Installations

Writer/Music Director/Performer/Host
A Journey Through Minimalism, LA Philharmonic (2019)

Composer
Trance for Brass Ensemble and Spoken Word. Peter J. Harris, poet.
Grand Performances, Los Angeles (2018)

Composer/Curator
Sleepless, Walt Disney Concert Hall (2017)

Installation Designer
Rhythm Maze, Music Center of L.A. County (2016)

Composer/Game Designer
Have a Seat, Interactive Music Installation,
Music Center of L.A. County (2015)